Overview
Fort Funston is a beautiful ridge soaring site on the west edge of San Francisco, with a rich history and diverse range of flying conditions. It is soarable from early spring through fall every year, with some favorable pre- and post-frontal days through the winter as well.
The Fort Funston launch sits at approximately 160′ MSL and is located west of the main parking area off of Skyline Boulevard. The launch includes parking, portable toilets, potable water, set up area, optional glider storage for members, launch and landing zones. This section describes the flight operations for launching, flying and landing at Fort Funston and identifies related risks, along with techniques that can help mitigate those risks.
Pilots must familiarize themselves with these guidelines, club rules, and site briefings before arriving, and this information DOES NOT replace the need for an in-person site briefing from a local pilot or instructor familiar with the area.
Minimum Ratings: Intermediate H3 and current USHPA membership
GPS Coordinates: 37.714136, -122.503003 (view map)
Type: Cliff Launch
Altitude: 160′ MSL
Orientation: W
Best Wind Direction: W, WSW, WNW* (ideal: 240-265 degrees; ok: 220-280 degrees) // Wind speed: ideal: 15 MPH; ok: 8-20 MPH, max 10 MPH gust differential
Best Wind Speeds: 15 MPH; ok: 8-20 MPH, max 10 MPH gust differential
Glide Ratio: 1:1, primary landing zone is at launch; secondary LZ is below launch on the beach
Vehicle Access: Large, paved public parking lot (free)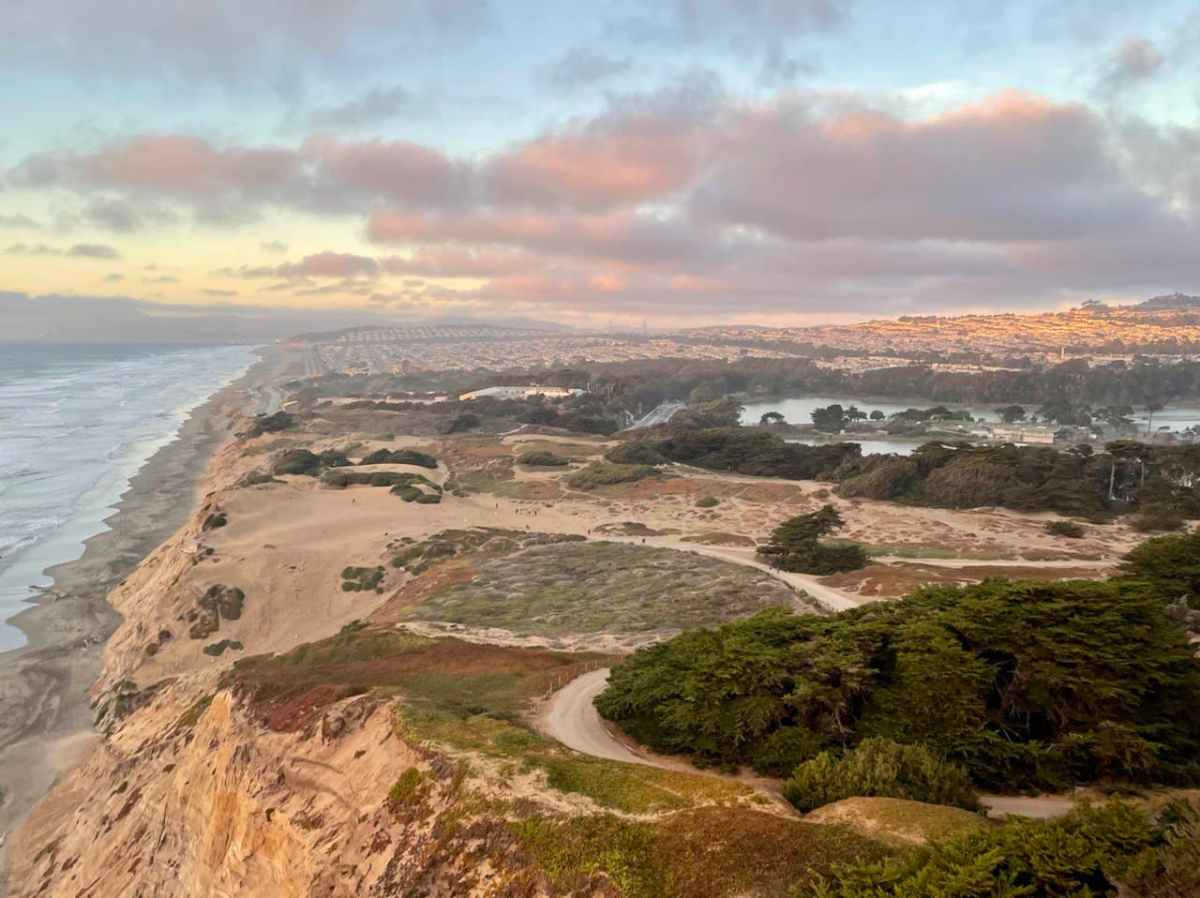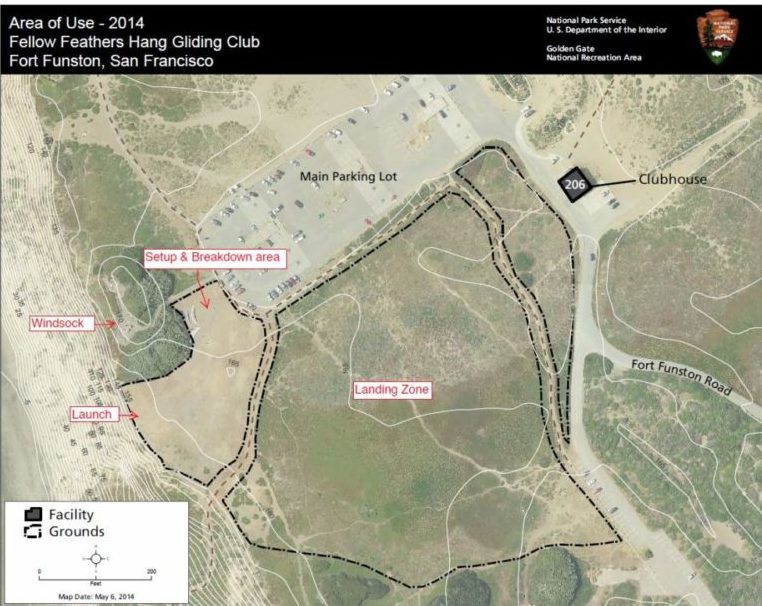 Details
There are some special considerations to be aware of when flying Fort Funston. Please read on to learn about these.
Bush Rotor: When the wind has a northerly component, launching and landing can be very challenging. Expect strong turbulence walking out to launch, on launch and while landing due to a large rotor downwind of the bush in the setup area. Expect the rotor to extend 300 yards or more downwind of the bush. Pay attention to the wind sock and streamers and land in the cleanest air.
Pedestrians: Pilots must stay at least 25′ away from pedestrians while launching, flying, or landing.
Beach Landing: Check the tide before you launch to ensure a beach landing will be possible. Plan your approach to land crosswind to the north or south depending on wind direction. Note, the wind direction at the beach may be different than at launch.
Westlake: New H3's need a Westlake introduction and guided trip before flying to Westlake alone.
Ridge Soaring Rules: Pass to the right. Pilot with the ridge to their right has right-of-way. Clear your turns – left, right, up, and down. Lower pilot has right-of-way. Keep track of the number of gliders in the air. Know where other airborne pilots are at all times.
Airspace Requirements: Be aware of altitude limitations along the Funston ridge to Westlake.